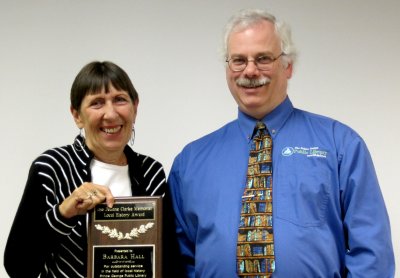 The co-winner of the 2011 Jeanne Clarke Award for service is Barbara Hall.
For the past 15 years, Barb has been an active member of the Education Heritage Committee with the Prince George Retired Teachers Association.
During the last 10 years, there have been numerous school closures in the Prince George area. Barb spearheaded the effort to help save the history of these schools before it was lost forever.
Barb's work in building up the archives and housing the material to museum standards was first class and her knowledge of the photos, yearbooks, meeting minutes, school board proceedings, concert programs, graduation exercises and school newsletters in the collection is second to no one. This is because of her efforts in setting up and maintaining an archives database. There are more than 8,000 items in the archives today and they are there because of Barb.
As a result, when the library, the college, the university and school reunion planners all want help to mount an exhibit about the education history in Prince George, the person who chooses the material and helps set up the display is often Barb.