Services
The library is closed until further notice due to the COVID-19 outbreak. The Curbside Holds Pickup Service is available Tuesday-Friday 10 am-6 pm, Saturday 10 am-2 pm @ Bob Harkins Branch; Monday-Friday 10 am-2 pm @ Nechako Branch.
Northern Routes Discovery Pass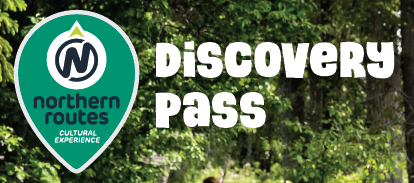 The Prince George Public Library has partnered with the Regional District of Fraser-Fort George to provide free access to some of North Central BC's premier museums, galleries and cultural attractions. The Northern Routes Discovery Pass is now available to borrow from either library branch.
The Discovery Pass provides free general admission during the loan period of the pass to all of the designated attractions for any combination of up to four adults or children. The pass is not valid for admission to special events. Pass borrowers may visit as many of the designated attractions as they would like during the loan period, but must remember to take their checkout receipt with them at the time of borrowing and present it for admission with the Discovery Pass, so that staff at the various attractions are able to verify that the visit falls within the borrowing period.
The Discovery Pass is valid for a period of two weeks. Place a hold in the library's catalogue to reserve a Discovery Pass for future loan. There are 8 passes available for loan. Overdue fees may be applied to the library accounts of customers who return the Discovery Pass to the library after its due date.
For a list of all the participating Northern Routes attractions, with hours/dates of operation, please visit www.northernroutes.ca
What is it? Libraries throughout British Columbia participate in a system that allows patrons with a valid library card to request items from other libraries throughout the province. Generally, there is no charge for this service and the average wait time is approximately 2-4 weeks, depending on demand within the province. If another library does intend to charge a fee, you would be contacted to see if you still want to request the book.     
How do I request?
You may request a book through ILL by completing and submitting our online request form, OR by filling out a request slip at your local library branch. Please include as much information as you can about the requested title, including author, title, and your preferred pickup branch. Requests may also be completed within the Library Catalogue via the Request Materials link found at the top right hand side of the webpage.
What can I request?
you may request books, microfilm or photocopied articles through this service

you are limited to 5 active requests at any one time

you may only request items not currently owned by Prince George Public Library

requested items must have a publication date that is more than 12 months old (newer items will be considered for purchase by the library)
What can I not request?
Books published within the last calendar year

Book Club sets

DVDs, Music CDs, Video Games, Books on CD

Magazines
How long can I keep the borrowed item?
Most loans are for a two week period. Some libraries allow for one renewal option (phone us first). Academic institutions do not allow for renewals. You will be given a date due slip when you pick the item up.
What is the cost?
The service is free to our patrons with active library cards. Some academic institutions charge for lending their materials. You will be contacted to see if you will accept their charge before your request is processed. There is a $2.00 fee for each requested item that is not picked up once it arrives at our library.
Please note: Replacement cost for damaged or lost ILL books is a flat fee of $30.00 for each item damaged or lost.
Who can I contact?
Patricia Gibson, Public Service Librarian at 250-563-9251 ext. 124 or illstaff@pgpl.ca.
Study Room Bookings
Please note: due to the loud noise in the building during the construction of the new entrance, the study rooms may not be ideal for quiet study or tutoring. We apologize for the inconvenience.
The library has two bookable study rooms located on the 2nd floor of the Bob Harkins Branch. The study rooms are available for individual or group bookings of no more than six people. The study rooms may be booked up to three weeks in advance; no patron or group may make more than one advance booking per day.
Study rooms may be booked for a maximum of two hours. Check the Study Room Booking Calendar and branch open hours for available dates/times.
For more information about the library's study rooms, or to make a room booking yourself, visit the Study Room Booking request webform.
Knowledge Garden Rental
The Knowledge Garden is a beautifully landscaped space located adjacent to the Bob Harkins Branch. It features an open air amphitheatre, vegetable and flower gardens, and space for seating up to 70. The Knowledge Garden is available for private events and can be closed to the public. Chairs are not provided.
Garden Rates: For non-profit organizations:
$25.00 per hour or part thereof
$85.00 for a half day (up to and including 4 hours)
$140.00 for a full day (over 4 hours)
Fees may be waived if the program is sponsored by the library.
For commercial groups/organizations and private individuals:
$50.00 per hour or part thereof
$170.00 for a half day (up to and including 4 hours)
$280.00 for a full day (over 4 hours)
Please contact us for garden booking availability.
Room Rentals
The library has two multi-purpose rooms available for local organizations to rent. Reservations may be booked up to two months in advance of an event. Reservations are confirmed upon receipt of the room rental fee. Room rental fees will be refunded where the reservation has been cancelled at least seven days prior to the confirmed date. Library sponsored programs have priority over other programs and the library reserves the right to refuse or cancel reservations.
Keith Gordon Room
*Due to the library entrance renovation project, the Keith Gordon Room is unavailable for booking until further notice.*
The Keith Gordon Room is a large capacity meeting/event room located on the main floor of the Bob Harkins Branch (downtown) of the library. The room is equipped with tables, chairs, large projection screen and projector, as well as audio/speaker system.
Capacity: 80 people
Available 10:00 am - 9:00 pm Monday to Thursday and 10:00 am - 5:30 Friday and Saturday.
Nechako Multi-Purpose Room
*Due to the renovation project at the Nechako Branch, the Multi-Purpose Room is unavailable for booking from August 31st-December 31st 2019.*
The Multi-Purpose room is located at the Nechako Branch (Hart Highway) of the library.
Capacity: 40 people
Available 10:00 am - 9:00 pm Monday & Friday, 10:00 am - 6:00 pm Tuesday, Wednesday, Thursday and Saturday.
Room Rates
The fees include use of audio visual and other equipment the library provides, as well as set-up and take down of equipment, tables and chairs.
Non-profit organizations: $45.00 for up to three hours and an additional $15.00 for each subsequent hour or part thereof.
Commercial groups or organizations: $35.00 for each hour or portion thereof.
In compliance with the City of Prince George Bylaw No. 4708, smoking is not permitted in library facilities. Preparation and/or serving of alcoholic beverages by outside groups is not permitted. Light refreshments may be brought in.
How to Book
To book a meeting room, contact Lisa Martinson at 250-563-9251 ext. 126 or lmartinson@pgpl.ca.
The library also has a number of bookable display spaces for exhibition of public art or information. For more information on booking a public display space, download the application form and review the Terms and Conditions.
For information about the Multi-Purpose Room at the Nechako Branch, please call 250-563-9251 ext. 300.
Public internet stations are available for two hours per day to Prince George and area residents with a valid library card or internet service card. Visitors and tourists will be issued a guest pass upon showing proof of an out-of-town address. Internet computers are available on a first come, first served basis. Please see the library's Internet Policy [Section 5.13 of the Library Policy Manual] for details regarding appropriate use of the library's internet service.
Word Processing
The Prince George Public Library provides free access to Microsoft Office software on all of its public computers. 
Wireless Access
The library offers free unlimited access to wireless Internet service at both library branches during open hours.
Printing/Scanning/Faxing
Printing, scanning, and faxing services are available at all library locations.
Printing is available from all internet computers and compatible mobile devices connected to the library's wireless internet service at a cost of $0.20/page. Print jobs can be retrieved from any print station at either branch of the library.
Customers who wish to print from a mobile device such as a smartphone or laptop can either install the library's PrinterOn mobile app, or visit the library's mobile print site to send their print jobs. To install the mobile app:
Visit your device's app store or the PrinterOn mobile printing page to download and install the mobile app for your device.
Use the PrinterOn app's "select a printer" feature to "search" for Prince George Public Library by name, or use the "location" feature of the app to locate the library using the location service on your device.
Select the "Prince George Public Library" and click on the star icon to add it to the app's "saved" list of printers.
Select "Documents," "Photos," "Email," or "Web" to locate, select, and send the files you wish to print to the library's printers.
Claim your print jobs at any print station at either branch of the library.
Photocopying services are available at $0.25/page. Document scanning to email or USB is available at no charge.
The library does not receive incoming faxes on behalf of library customers. Sending faxes to local/long distance/international numbers is available at $1.00/fax transmission.
Bob Harkins Branch
UPDATE: Construction of the new entrance (City of Prince George article) that is expected to be fully completed in May 2020. Noise and vibration will be an issue.
Exam invigilation is not available due to high noise and vibration from demolition and construction. Sorry for the inconvenience.
Students must contact the invigilator to confirm dates and times before booking an exam with their school.
The library branch's invigilation services are available Monday to Friday 10am to 5:30pm
The sitting fee for invigilation is $50/exam.
Fees are payable at the Check Out Desk on the main floor of the Bob Harkins Branch prior to the scheduled exam. Cash, debit, and credit cards are accepted.
Exams are taken in a glass walled study room on the 2nd floor of the Bob Harkins branch in the farthest corner from the construction. The study room has no ceiling and is not sound proof. Earplugs are available.
A laptop computer is available for online exams. Specific software can be installed if required.
Unable to invigilate exams that required detailed timing.
The City enforces paid parking in our lot. Library users get 3 free hours of parking, but you must still register your licence plate at the main floor parking kiosk. It is $1.00 per additional hour.
For more information, or to schedule an exam please contact:
Jeff Kozoris, Digital Literacy & Instructional Librarian
888 Canada Games Way, Prince George, BC, V2L 5T6
250-563-9251 ext. 125
exams@pgpl.ca
Centre for Learning Alternatives, John McInnis Centre
Can invigilate both written and online exams on Monday-Wednesday, 9am to 3pm; Thursday. 1pm to 7pm; and Friday 9am - 12 noon
Sitting fee is $25 or free for students K-12
For more information, contact:
Robin Wright, Continuing/Distance Education Secretary
3400 Westwood Drive, Prince George, BC, V2N 1S1
250-564-6574 ext. 2052
rwright@sd57.bc.ca
CNC Testing and Tutoring Services
Can invigilate written, online, and detailed timed exams on weekdays for a $50 fee.
Priority for exam writing space is given to CNC students.
For more information, contact:
Jamie MacIvor, TTS Coordinator
3330 22nd Avenue, Prince George, BC, V2N 1P8
250-561-5837
tts@cnc.bc.ca
UNBC Academic Success Centre
Can invigilate both written and online exams on Fridays for a $50 fee
Unable to invigilate exams that require specialized software or detailed timing.
For more information, contact:
Chrissy Ingram, ASC Coordinator
3333 University Way, Prince George, BC, V2N 4Z9
250-960-6367
asc@unbc.ca