Services
Northern Routes Discovery Pass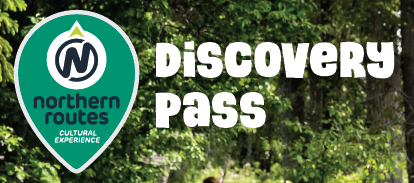 The Prince George Public Library has partnered with the Regional District of Fraser-Fort George to provide free access to some of North Central BC's premier museums, galleries and cultural attractions. The Northern Routes Discovery Pass is now available to borrow from either library branch.
The Discovery Pass provides free general admission during the loan period of the pass to all of the designated attractions for any combination of up to four adults or children. The pass is not valid for admission to special events. Pass borrowers may visit as many of the designated attractions as they would like during the loan period, but must remember to take their checkout receipt with them at the time of borrowing and present it for admission with the Discovery Pass, so that staff at the various attractions are able to verify that the visit falls within the borrowing period.
The Discovery Pass is valid for a period of two weeks. Place a hold in the library's catalogue to reserve a Discovery Pass for future loan. There are 8 passes available for loan.
For a list of all the participating Northern Routes attractions, with hours/dates of operation, please visit www.northernroutes.ca
What is it? Libraries throughout British Columbia participate in a system that allows patrons with a valid library card to request items from other libraries throughout the province. Generally, there is no charge for this service and the average wait time is approximately 7-10 days, depending on demand within the province. If another library does intend to charge a fee, you would be contacted to see if you still want to request the book.     
How do I request?
You may request a book through ILL by completing and submitting our online request form, OR by filling out a request slip at your local library branch. Please include as much information as you can about the requested title, including author, title, and your preferred pickup branch. Requests may also be completed within the Library Catalogue via the Request Materials link found at the top right hand side of the webpage.
What can I request?
you may request books, microfilm or photocopied articles through this service

you are limited to 5 active requests at any one time

you may only request items not currently owned by Prince George Public Library

requested items must have a publication date that is more than 12 months old (newer items will be considered for purchase by the library)
What can I not request?
Books published within the last calendar year

DVDs, Music CDs, Video Games, Books on CD

Magazines
How long can I keep the borrowed item?
Most loans are for a two week period. Some libraries allow for one renewal option. Academic institutions do not allow for renewals. You will be given a date due slip when you pick the item up.
What is the cost?
The service is free to our patrons with active library cards. Some academic institutions charge for lending their materials. You will be contacted to see if you will accept their charge before your request is processed.
Who can I contact?
Interlibrary Loans Librarian at 250-563-9251 ext. 125 or illstaff@pgpl.ca.
*We are not currently taking room bookings for the Keith Gordon Room, the Nechako Multi Purpose Room, or the Knowledge Garden .*
Public internet stations are available for two hours per day to Prince George and area residents with a valid
library card
or
internet service card
. Visitors and tourists will be issued a guest pass. Internet computers are available on a first come, first served basis. Please see the library's
Internet Policy
[Section 5.13 of the
Library Policy Manual
] for details regarding appropriate use of the library's internet service.
For information on how to access the internet and computers at the library without a library card, please see our guide here.


Word Processing
The Prince George Public Library provides free access to Microsoft Office software on all of its public computers. 
Wireless Access
The library offers free unlimited access to wireless Internet service at both library branches during open hours.
Printing/Scanning/Faxing
Printing, scanning, and faxing services are available at all library locations.
Printing is available from all internet computers and compatible mobile devices connected to the library's wireless internet service free for the first 30 pages and then at a cost of $0.20/page. Print jobs can be retrieved from any print station at either branch of the library.
Customers who wish to print from a mobile device such as a smartphone or laptop can either install the library's PrinterOn mobile app, or visit the library's mobile print site to send their print jobs. To install the mobile app:
Visit your device's app store or the PrinterOn mobile printing page to download and install the mobile app for your device.
Use the PrinterOn app's "select a printer" feature to "search" for Prince George Public Library by name, or use the "location" feature of the app to locate the library using the location service on your device.
Select the "Prince George Public Library" and click on the star icon to add it to the app's "saved" list of printers.
Select "Documents," "Photos," "Email," or "Web" to locate, select, and send the files you wish to print to the library's printers.
Claim your print jobs at any print station at either branch of the library.
Photocopying services are available free for the first 30 pages and then at $0.20/page. Document scanning to email or USB is available at no charge.
The library does not receive incoming faxes on behalf of library customers. Sending faxes to local/long distance/international numbers is available at no charge.