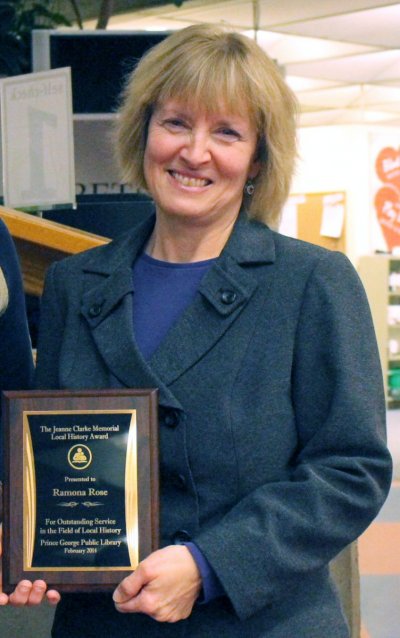 The 2014 Jeanne Clarke Local History award for service was presented to Ramona Rose, Head of Archives and Special Collections at the University of Northern British Columbia. Ramona began her tenure in the newly established North BC Archives and Special Collections in the Geoffrey R. Weller Library at UNBC in 2000. Ms. Rose converted the Archives into a premier archival facility worthy of housing archival materials of national significance. Only one-fifth of Canadian cultural institutions have a Category "A" status and of these, only 52 are archives. Through the hard work and dedication of Ms. Rose and her team, the Northern BC Archives is one of the elite 52.
Ramona is an ardent proponent of local historical research and preservation. She has spent over 20 years in the community working with the regional museum, serving on the Prince George Heritage Commission, the BC Historical Federation Editorial Advisory Board, the executive of the Prince George Oral History Group, with the Red Rock Community History Project, the Archives Association of BC, the Cassiar, BC Digitization and Identification Project, and was instrumental in organizing the annual conference of the Forest History Association of BC in Prince George.
For her outstanding efforts in preserving historical materials of regional and national significance, Ramona is a deserving recipient of the 2014 service award.