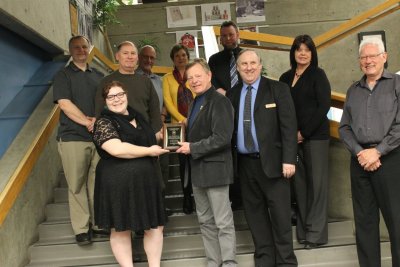 The 2016 Jeanne Clarke Award for service was presented to the Select Committee on Prince George's 100th Anniversary Celebration.
The Select Committee supported and promoted over 60 events and groups in celebration of Prince George's 100th anniversary. Over 95,000 people joined those celebrations. The Committee enhanced work already being done locally to record and share the community's history, partnering with the Library on the development of a Downtown Heritage walking tour app, supporting the Prince George Community Band's "A Century in Music", creating an 100th anniversary time capsule and sponsoring two 2016 Publication nominees- "Remembering" and "Frozen Flame".
Councillor Murry Krause, Committee Chair, accepted the award on behalf of the Committee.